Chef Staib has done extensive research to recreate the drinks our founding fathers enjoyed.
(Of course we also offer a full selection of modern selections as well).

Ales of the Revolution
General Washington's Tavern Porter
Brewed from a genuine recipe on file in the Rare Manuscripts Room of the New York Public Library. A rich, dark brew loaded with flavor.
Thomas Jefferson's 1774 Tavern Ale
Thomas Jefferson made beer twice a year. Our version of this ale is made following Jefferson's original recipe, unfiltered, medium bodied, light in color with great taste.
Poor Richard's Tavern Spruce
Based on Benjamin Franklin's recipe, written while he was ambassador to France. This beer made with very little hops, has a caramel color, dark molasses hue, a hint of spruce & a dry finish.
Alexander Hamilton's Federalist Ale
In the style of the common man's ale, this pale ale is brewed with Pilsner malt, crisp & hoppy with citrus flavors & aromas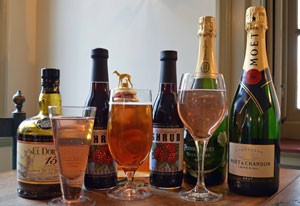 Shrub
Shrub dates back to the 1500's, in fact Martha Washington's Booke, 1753, includes recipes using shrub in a variety of ways. Shrub is a drink made from fruit juice vinegar sweetened with sugar and spiked with alcohol or fizzed with soda water. At today's City Tavern we offer raspberry as our featured flavor.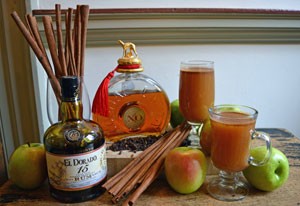 Apple Cider
Before mixers, apple cider was a very popular drink and used in many ways. An important social routine in early America, people often warmed up around a central fireplace with a beverage in their hands.

BG Wines
Chef Walter Staib, proprietor of City Tavern, has great admiration for Thomas Jefferson. He serves B&G wines from the best regions in France, just as the just founding father & epicurean did. Jefferson stocked the cellars of the White House in 1805 with B&G wines before signing the European Trade Embargo in 1807!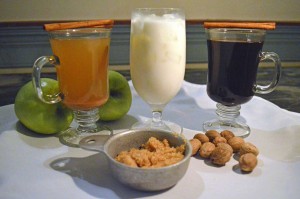 Winter Drinks
Wassail
Wassail dates back to the old English custom of wassailing during the Christmas and New Year's season. In those days, a big punch bowl was filled with this spiced drink and everyone gathered around the "wassail bowl" to toast the season.
City Tavern Warmer
Although Madeira was the drink of choice at City Tavern, rum, brandy and whiskey were also consumed in healthy quantities. This drink combines all three with another common beverage, apple cider.
Egg Nog
In February 1796, Isaac Weld wrote about a small entourage of travelers that stopped in Philadelphia for breakfast and enjoyed eggnog, documenting it for the first time!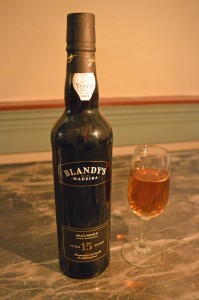 Madeira
The most consumed beverage in Colonial America. Actually considered to be superior in the colonies than back at home in Europe. During the trip to colonies the cast of Madeira heated as they approached the equator improve the quality of the Madeira. In fact, in modern production, the casks are now heated to reproduce effects of the voyage. Madeira's popularity was a result of simple economics. Upon his marriage to Catherine of Braganza, the daughter of Portuguese King John IV, King Charles II gained valuable trade concessions which allowed the English to dominate the Madeira trade. Later King George II enacted laws forbidding the importation of any other wine to the Colonies. The lack of importation duties made Madeira an inexpensive & attractive beverage, even to the tea totaling Quakers.