Hours of Operation
We recommend reseravtion but most days you can just stop in.
Casual attire welcome
Serving 7 days a week
Lunch from 11:30 am
Dinner from 3:00 pm
Reservations accepted through
9:00 pm Sunday-Thursday; 10:00 pm Friday & Saturday  
The Holidays are right around the corner, join Chef Walter Staib & make your celebration one to remember!
Christmas Eve & New Year's Eve's Dinner
City Tavern will offer our lunch menu, however at 3:00pm Chef Walter Staib has arranged a special four course holiday feast which will go down on in your family's history. This special four-course meal offers something for everyone, enjoy holiday classics while our in-house musicians play in the back ground.  It is sure to be a night to remember.  Reservations will be accepting starting November 1st by phone only.  The cost is $75.95 per person, children 12 & under $35.95 (beverages, tax & gratuity are additional). Seating is still available at 1:00, 1:30, 4:00, 4:30 and then again at 7:30 & 7:45pm.  Please note we will require a credit card to make the reservation. (A cancellation fee of $50.00 per person will apply once we accept the reservation). Click here for the complete menu.
New Year's Day
Start off the New Year with Chef Walter, City Tavern opens at 1:00pm serving our dinner menu.  Be sure to keep the German tradition of enjoying pork & sauerkraut believed to bring you prosperity in the New Year!
Parties of 14 or more
Private Affairs & Groups 
Have a question? Use the button below to contact us.
Enjoy live period music by our resident musician Mark Caroll every Wednesday through Sunday nights from 5:30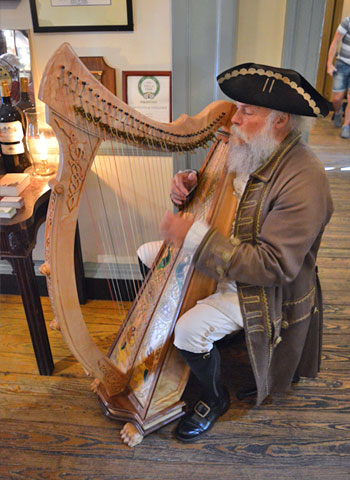 Reservation FAQs
Hours of Operation
City Tavern serves lunch from 11:30am daily.
Dinner begins at 4:00Pm, Sundays 3:00Pm.
Our last reservation is Mon-Thurs 8:30, Fri & Sat 9:30, Sundays 8:30.
However, we frequently stay open later.
Dress Code
Casual attire is fine, however many guests do dress up a bit more for dinner.
Wheel Chair Access
City Tavern is a historically accurate reproduction so we do not have elevators. Wheel chair access is available on our Wine Cellar level from our Walnut Street entrance where you will have a guided tour of our pastry kitchen. Please make a notation in the comments section of the reservation requests. Just have a member of the party stop at the main entrance or call when you arrive & we will be happy to escort you.
Do I need reservations?
City Tavern recommends reservations, especially on weekends & holidays. However, most days we can accommodate walk-ins.
Parties of 8 or more.
City Tavern requires a credit card number to hold the table, in the event of cancellation with less than 24 hours' notice there could be a $50.00 charge
Parties of 14 or more & private affairs
City Tavern is happy to accommodate large parties; in fact we create special prix-fixe menus. Please contact our in house Special Events Coordinator who will be happy to make all of your arrangements. (Link to events@citytavern.com copy info@citytavern.com & wstaib@citytavern.com)
Seating request
City Tavern hosts many private affairs, so we never know which dining room will be available on a given night. We will be happy to note the request and try to accommodate whenever possible, however, we are unable to make any guarantees
Meeting Chef Staib
Chef Staib is always happy to stop by & say hello whenever he is at the restaurant. Although he is at the restaurant nearly every day (unless on location filming A Taste of History) it is impossible to commit to any particular day or time. The best chance of bumping into Chef Staib is earlier afternoon when he is overseeing his kitchen staff with the day's preparations.
Special Occasions
If you would like to make your visit even more special, we would be happy to make special arrangements. We can offer a champagne toast to meet you at your table; we offer a spectacular sparking Sparkling Rose from B&G, where we have documentation Thomas Jefferson ordered wine in 1805. We would also be happy to arrange personalized cake made from Martha Washington's recipe for chocolate mousse cake (a 6 inch cake for $25.00 great for 2-4 people). This requires 48 hours notice. Please let us know if I may be of assistance with either of these options. You can either call the restaurant or email us at info@citytavern.com
Directions: For GPS purposes enter 143 S 2nd Street, Philadelphia PA 19106.
Parking
There is some metered street parking available in the area. A parking garage is located on 2nd Street between Chestnut & Walnut immediately before reaching City Tavern or a community valet is located in front of Positano Coast nightly beginning at 5:00PM (Pass City Tavern on 2nd Street make right on Walnut, make very first left after Positano Coast & follow the signs)